Jackass: Number Two
Theatrical Release:
September 22, 2006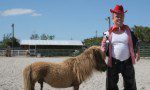 Synopsis
For fans who thought the stakes couldn't be raised any higher and the bar couldn't be lowered any further, the original cast and crew of the stunt comedy sensation that swept the globe return for another round of jaw-dropping feats that are guaranteed to have viewers wincing through their laughter. Jeff Tremaine directs, and Johnny Knoxville, Bam Margera, Chris Pontius, Steve-O, Ryan Dunn, and Jason "Wee Man" Acuna return to the screen to endure more pain and humiliation than ever thought possible on the big screen.
Dove Review
Johnny Knoxville and gang return for another embarrassingly poor attempt at humor. This film's cast is not only excessively violent to each other, they actually volunteer to perform some of the most debase stunts themselves. A few of the cast are so grossed out at what the others are doing or eating that they actually vomit on screen.
With no redeeming qualities and a warning at the start and end of the film, you don't need me to tell you that "Jackass" is not a family film.
Info
Writer:
Sean Cliver and Preston Lacy