The Guardian
Theatrical Release:
September 29, 2006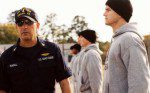 Synopsis
After losing his crew in a fatal crash, legendary Rescue Swimmer, Ben Randall (Kevin Costner), is sent to teach at "A" School, an elite training program for Coast Guard Rescue Swimmers. Wrestling with the loss of his crew members, he throws himself into teaching, turning the program upside down with his unorthodox training methods. While there, he encounters a young, cocky swim champ, Jake Fischer (Ashton Kutcher), who is driven to be the best.
During training, Randall helps mold Jake's character, combining his raw talent with the heart and dedication required of a Rescue Swimmer.
Upon graduation, Jake follows Randall to Kodiak, Alaska, where they face the inherent dangers of the Bering Sea. In his initial solo rescue, Jake learns firsthand from Randall, the true meaning of heroism and sacrifice, echoing the Swimmer's motto…"So Others May Live!" >/p>
Dove Review
This was an interesting story to watch, with Costner playing the "old lion" and Kutcher playing the "young lion." Costner plays Ben Randall, a character who sees a lot of talent in Jake Fischer (Kutcher), but wonders whether he really joins the Coast Guard to save people or to show off his abilities. The character development is well done and the story is realistic as Randall endures a separation from his wife, who is tired of his continual absence due to the nature of his job. Fischer has his own private pain which surfaces to the top near the end of the film.
Unfortunately, the film has very strong language and a sexual relationship between two unmarried people so we at Dove, as "guardians" of wholesome family entertainment, and in advising our readers of the content, cannot award "The Guardian" our Dove Seal of Approval.
Info
Reviewer:
Edwin L. Carpenter