Open Season – 3D
Theatrical Release:
September 29, 2006
DVD Release:
November 16, 2010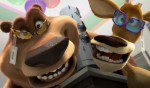 Synopsis
In the tranquil mountain town of Timberline, Boog, (Martin Lawrence), a grizzly bear with no survival skills, enjoys an idyllic existence. He spends his days as the star of the town's nature show and his nights living a life of luxury in the garage of Park Ranger Beth (Debra Messing), who raised him since he was a cub. Every town has a bully and Timberline's is the paranoid über-hunter Shaw (Gary Sinise). Shaw believes that animals are conspiring against humans, "So we have to get them before they get us!"
When he drives into town with Elliot, (Ashton Kutcher), a scrawny, fast-talking wild mule deer strapped to the hood of his truck, Boog is moved by Elliot's pleas for help and against his better judgment, frees him. Elliot follows Boog home, intent on returning the favor by "freeing" Boog from his garage "captivity." He introduces the bear to a world of sweet temptations he has never known. But when the bear's true instincts being to emerge, events quickly spin out of control.
Dove Review
"Open Season" is a delightfully fast paced movie that will entertain kids both young and old alike. Boog learns about friendship as he tries to get back to his garage after the forest ranger that raised him from a cub tries to re-integrate him into his natural environment.
Parents should note that there is some mild crude humor including a fart and Elliot the Mule Deer lifts his tail and goes potty on screen. There are also a few slightly violent scenes when the animals and hunters fight each other but I didn't notice any of the children getting upset in the packed theater I was in when I screened the film.
If you get a chance, I suggest you see it in IMAX 3D as the animation and special effects are awesome in that format.
Info
Company:
Columbia Tri-Star Pictures
Writer:
Steve Bencich and Ron J. Friedman
Director:
Roger Allers and Jill Culton