Incredible Creatures that Defy Evolution 3
Theatrical Release:
December 10, 2004
DVD Release:
December 10, 2004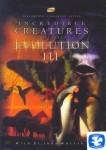 Synopsis
"Incredible Creatures that Defy Evolution" presents powerful evidence that proves that animal designs can only be attributed to a creator; they cannot possibly be explained by evolution. This program will inspire you to look more closely at the world around you.
Dove Review
This is the best of the three-volume set, and the other two were pretty good! This DVD combines great scientific knowledge with fantastic visuals which are a wonder to view. Dr. Jobe Martin, a biology major in college before teaching at Baylor College Of Dentistry, quotes Charles Darwin himself, who is the father of modern evolution teaching. He said, "Such simple instincts as bees making a beehive could be sufficient to overthrow my whole theory."
Dr. Martin does an impressive job in exploring what makes underwater creatures, horses, and various other creatures function as they do. The fact that there is a design behind these creations soon becomes evident. We recommend this DVD and the entire three-volume set to the entire family. We are happy to award our Dove Seal and to give five out of five doves to this outstanding program.
Info
Company:
Exploration Films
Starring:
Narrated by Dr. Jobe Martin and hosted by David Hames
Reviewer:
Edwin L. Carpenter