Lithium Springs
Theatrical Release:
October 10, 2006
DVD Release:
December 1, 2006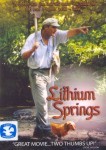 Synopsis
450 years ago, Spanish explorer Juan Ponce de Leon was forced to leave a small chest of gold and jewels buried in a Florida swamp. On his death bed, he left a crude map to the treasure.
Offbeat adventurer Evinrude Jones stumbles across the ancient map and recognizes certain landmarks that could only be known to someone with an intimate knowledge of the area. Evinrude and his dog Fred embark on a journey to find the long-lost treasure. The search is complicated by mystical woods people, greedy land developers, and the lure of romance.
Dove Review
With some environmentalist undertones this funny film makes you laugh. I want to compare Evinrude to Jim Varney's Ernest character; fighting the bad guys while trying to help the environment sounds just like something that Ernest would do. Evinrude and his side-kick dog, Fred, have some very hilarious times that are laugh-out-loud funny. They have thrown in some history about Juan Ponce de Leon's Fountain of Youth and treasure map that sends this duo on a comical adventure in Florida.
Info
Company:
Ocean Entertanment Grp, Inc