The Marine
Theatrical Release:
October 13, 2006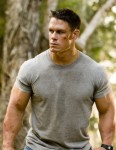 Synopsis
WWE Smackdown star and self-proclaimed "Doctor of Thuganomics" John Cena makes his explosive action feature debut as an injured U.S. Marine who returns home from duty only to have his girlfriend kidnapped by a ruthless criminal. Robert Patrick co-stars as the villain who is more than willing to kill if it means staying one step ahead of the law, and Nip/Tuck star Kelly Carlson appears as the endangered girlfriend. Commercial veteran John Bonito takes the rein for his feature directorial debut.
Dove Review
This film did keep my curiosity aroused about one thing–would John recover his wife safely from her kidnappers in the end? Although it would seem a given, he found himself facing some overwhelming odds. However, as the movie went on it became crystal clear that it was fantasy based and it left the realm of realism. John survives explosion after explosion, single-handedly taking on the bad guys and one by one mows them down with his fighting skills from his marine training. The ending is a combination of explosions and a truck crashing with his wife still in it into the water. Since the realism was tossed out the door, you can pretty much figure out what happens concerning his wife.
I actually thought I might sit through a violent movie all the way to the end without God's name being taken in vain or the name of Jesus used in like manner. I was wrong. With approximately twenty minutes remaining, both "God" and "Jesus" were uttered in profane ways. This movie is violent and unrealistic and far from family friendly. It includes a couple cops being murdered, two police cars being fired at, and a dirty cop. It also includes a woman dressed in a very tiny bikini and some racial slurs. I would have to believe that some marines will not favorably look on this movie.
Info
Company:
20th Century Fox
Reviewer:
Edwin L. Carpenter