A Good Year
Theatrical Release:
November 10, 2006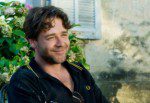 Synopsis
London-based investment expert Max Skinner (Russell Crowe) travels to Provence to tend a small vineyard he inherited from his late uncle (Albert Finney). When he gets suspended from his job under suspicion of fraud, he settles in to life at the chateau, remembering the time he spent there as a child and falling for a beautiful waitress (Marion Cottilard). Then a determined young California girl (Abbie Cornish) arrives claiming to be the illegitimate daughter of Max's uncle and rightful owner of the vineyard.
Dove Review
"This place doesn't suit my life. No Max, your life doesn't suit this place." That dialog from "A Good Year" sums up the film pretty well. Max (Russell Crowe) is a cruel opportunist, money worshiping, ruthless Englishman. All his good childhood memories take place at his uncle's vineyard in France and when he returns all he seems to be interested in is the money.
While having an interesting storyline and some fun moments, "A Good Year" is filled with objectionable material for the family in four out of six Dove categories.
Info
Company:
Fox 2000 Pictures
Writer:
Marc Klein and Peter Mayle