Stranger Than Fiction
Theatrical Release:
November 10, 2006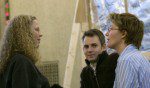 Synopsis
Fiction and reality collide in this inventive comedy by filmmaker Marc Forster ('Finding Neverland', 'Monster's Ball'). After ten years of painstaking work, novelist Karen Eiffel (Emma Thompson) is nearing completion on her latest, and potentially finest, book. Her only remaining challenge is to figure out how to kill off her main character, Harold Crick. Little does she know that Harold Crick (Will Ferrell) is inexplicably alive-and-well in the real world, and suddenly aware of her words. The bewildered and hilariously resistant Harold hears what she has in mind and realizes he must find the author and persuade her to change her (and his) ending.
Dove Review
This film was not your typical Will Ferrell movie. Unlike most of his other comedies, this is dark and more like a tragedy. In fact the question that keeps haunting Harold Crick is whether his life is a comedy or a tragedy. Lessons can be learned such as the importance of living life rather than letting life just happen to you, as well as how to find what your aptitudes are and the need to pursue your dreams. However, Harold does make some decisions based on feelings rather than morality.
Due to the harsh language, implied sex between an unmarried couple and the completely unnecessary nudity, this film is not appropriate for the family.
Info
Company:
Sony Pictures Home Entertainment