The Holiday
Theatrical Release:
December 8, 2006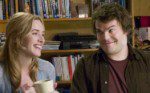 Synopsis
Iris is in love with a man who is about to marry another woman. Across the globe, Amanda realizes the man she lives with has been unfaithful. Two women who have never met and live 6000 miles apart, find themselves in the exact same place. They meet online at a home exchange website and impulsively switch homes for the holiday. Iris moves into Amanda's L.A. house in sunny California as Amanda arrives in the snow covered English countryside. Shortly after arriving at their destinations, both women find the last thing either wants or expects: a new romance. Amanda is charmed by Iris' handsome brother Graham and Iris, with inspiration provided by legendary screenwriter Arthur, mends her heart when she meets film composer Miles.
Dove Review
Unfortunately this intelligently written romantic comedy missed the mark with its inclusion of so many sexual situations and references. It was a treat to see Jack Black playing a sensitive role and almost shocking that the only f-bomb in the movie was NOT uttered by his character. With a playing time of over two hours I went into the film somewhat cynical about it's plotline but was quite impressed by the story's premise and lack of typical chick-flick sentimentality. It could have been easily tailored to a family audience but as it stands, there is simply too much drinking and too many sexual references for Dove's approval.
Content Description
Sex:
Several references to "shagging", several scenes of men and women kissing, graphic sexual references, sex between unmarried adults implied, unmarried man and woman living together, sex between strangers implied as already described.
Info
Company:
Columbia Tri-Star Pictures