Rocky Balboa
Theatrical Release:
December 20, 2006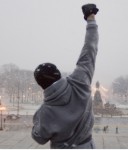 Synopsis
Former heavyweight champion Rocky Balboa steps out of retirement and back into the ring, putting himself against a new rival in a dramatically different era. After a virtual boxing match declares Rocky Balboa the victor over current champion Mason "The Line" Dixon, the legendary fighter's passion and spirit are reignited. But when his desire to fight in small, regional competitions is trumped by promoters calling for a rematch of the cyber-fight, Balboa must weigh the mental and physical risks of a high profile exhibition match against his need to be in the ring.
Dove Review
The story was true to the spirit of the original "Rocky." I had a very favorable overall impression of the sixth installment of this "triumph over adversity" series; the best of the five sequels. I was especially touched by Rocky's humble spirit, balanced with his great strength of character. He never lost his love for the underdog, as depicted by his compulsion to rescue Marie, Steps and Punchy. The face-off with his son is especially touching and profound. The priest quoting scripture before the fight is also a positive touch.
I was heartened by the sensitive way writer/director Stallone dealt with a rough subject, and still managed to toe the line with a lack of gratuitous violence. Of course, "Rocky Balboa" IS a boxing movie, so viewers should not be surprised by any brutality during the obligatory boxing match.
Dove rates movies on behalf of the family audience based on content, message and production value. This film rated high in most categories, however, there is one GD uttered by Paulie in a fit of anger. While many people might consider that term to accurately express the passion of the moment, Dove always draws the line at "Biblical profanity." This one phrase represents a 'speed bump' in an otherwise compelling movie.
Content Description
Violence:
A boxing match with some blood and swollen faces; threat of a street fight not acted upon.
Language:
H-4; D-3; A-7 ( a few of these uttered in a song at the end of the film); P-1; Sc*ew-1; Cr*p-1; B-3; GD-1; "Jesus" used with reverence.
Violence:
A boxing match with some blood and swollen faces; threat of a street fight not acted upon.
Info
Producer:
William Chartoff and David Winkler