Bop Along with the Bop-a-Lots: Vol 1
Theatrical Release:
February 6, 2007
DVD Release:
February 6, 2007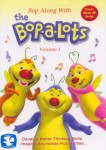 Synopsis
Created by parents and developed with educators to nurture positive, cognitive development during the crucial first few years of your child's life, the BOP-a-Lots series of DVDs will amuse, encourage and inspire young minds while awakening in them the same productive thinking skills used by Edisons, Einsteins and DaVincis of the world.
Alive with colorful computer animation, playful dance and musical styles from around the globe, Huggy-Bop, Sugar-Bop, and Silly-Bop will lead your child to a joyful journey of discovery where it's never been more fun to Think Better.
Dove Review
Toddlers will enjoy this musical video with the Bop-a-Lots. These cute cuddly animated characters will have them dancing around the room. While they are dancing they will be exposed to many different cultures of music with the same title. For example you will listen to "Old MacDonald" with a dixieland beat or "Rock-A-Bye Baby" to a calypso beat to name a few. Great for you child in the learning range of 0 to 5 years of age.
Info
Industry Rating:
Not Rated