Bananas Featuring Ron Pearson
Theatrical Release:
November 28, 2006
DVD Release:
November 28, 2006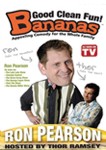 Synopsis
Described as a "comic ball of fire," Ron Pearson is a comedian, actor and world-champion juggler. In addition to being a top stand-up comedian performing in clubs across the country, Ron is the leading warm-up comedian in Hollywood. Just a few of his television appearances include Malcolm and Eddie, The Late Show, Two Guys and a Girl and the Jerry Lewis Telethon. Ron is also a comedy writer contributing regularly to US Weekly Magazine.
Dove Review
This is wholesome, funny entertainment. Ron can juggle, ride a unicycle and throw out punch lines like nothing. He involves the audience in his act and the viewers from home will find themselves caught up in his routines too. Enjoy! We award five doves to this DVD and recommend it for all ages.
Info
Company:
Guardian Studios
Reviewer:
Edwin L. Carpenter