Children of Men
Theatrical Release:
January 5, 2007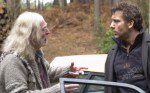 Synopsis
Children of Men envisages a world one generation from now that has fallen into anarchy on the heels of an infertility defect in the population. The world's youngest citizen has just died at 18, and humankind is facing the likelihood of its own extinction.
Set against a backdrop of London torn apart by violence and warring nationalistic sects, Children of Men follows disillusioned bureaucrat Theo (Clive Owen) as he becomes an unlikely champion of Earth's survival. When the planet's last remaining hope is threatened, this reluctant activist is forced to face his own demons and protect her from certain peril.
Dove Review
At first I thought this might be a "Logan's Run" for the new century but I was quickly aware that this would not be the case. In this depressing futuristic world, Woman can no longer get pregnant and the world has completely gone to civil wars. This film suffers for many reasons as it never exposes why birth is impossible as it paints the worst possible portrait of humankind.
Neither enjoyable or satisfying, this films falls flat on all counts.
Info
Company:
Universal Pictures
Writer:
Alfonso Cuarón and Timothy J. Sexton