The Valley of Light
Theatrical Release:
January 28, 2007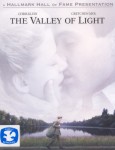 Synopsis
"The Valley of Light" tells the story of Noah Locke (Chris Klein), a World War ll veteran, who returns home at the end of the war to find his parents have died, his brother is in prison and the family farm has been sold. Feeling lost in the world, Noah wanders the rural roads of the South in search of a place he can call home, a community to which he can belong.
Eventually, Noah is led by a mysterious stranger (Robert Prosky) to a place the stranger calls The Valley of Light. Noah meets and befriends a mute boy, Matthew (Zach Mills), and Eleanor (Gretchen Mol), a young widow. Noah and Eleanor are two lonely souls who develop a strong attraction to one another.
Dove Review
This Hallmark Hall of Fame movie is a simple story about a simpler time and although the pace is a bit slow in the beginning, it is a journey worth taking. Following his stint in World War ll, Noah Locke returns to his southern home to find his younger brother Travis locked up in jail for driving the getaway car in a robbery. His parents have died and the old farm where he grew up is owned by another family.
Noah begins to travel, not sure where he is headed, and his path crosses that of an old man named Hoke Moore. They fish together and Hoke tells Noah that he should head to The Valley Of Light. Noah soon finds himself in a small town where he is needed. His knack for catching more fish than anyone else and his ability to gain the trust of a mute boy soon has the town warming up to him. Soon a young widow named Eleanor meets the quiet, unassuming Noah, and sparks are evident.
This story demonstrates the belief in angels helping people out and although a tragedy takes place, the ending should leave most viewers very pleased. This simple story caused actress Gretchen Mol, who played Eleanor, to long for a simpler, quiet time. You will find it in this pleasant story which we recommend for all ages. It is a wholesome film and we award five doves to this movie.
Info
Writer:
Camille Thomasson and Terry Kay
Reviewer:
Edwin L. Carpenter