The Good German
Theatrical Release:
January 19, 2007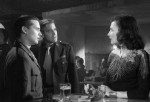 Synopsis
Based on the novel by Joseph Kanon, The Good German takes place in the ruins of post-WWII Berlin, where U.S. Army war correspondent Jake Geismar (George Clooney) becomes embroiled with Lena Brandt (Cate Blanchett), a former lover whose missing husband is the object of a manhunt by both the American and Russian armies.
Intrigue mounts as Jake tries to uncover the secrets Lena may be hiding in her desperation to get herself and her husband out of Berlin. Tully (Tobey Maguire), a soldier in the American army motor pool assigned to drive Jake around Berlin, has black market connections that may be Lena's way out — or lead them all into even darker territory.
Dove Review
After viewing this movie at an early screening, at the conclusion I thought, "What a cheery little movie." I was being sarcastic to myself. This movie has a great cast, and the black and white cinematography works well for this post-World War ll period film, in which a lot of the pieces are still being picked up from the mess of war. But this is not a family film. It has very strong language, topless nudity, sex and violence. It is a story of intrigue and betrayal and is downright slow moving in spots. This is really a waste of a good cast. Someone remarked that it had a "Casablanca" ending. It's true. Except "Casablanca" is a much better film. Due to the excess in key content areas, Dove cannot approve this film.
Info
Reviewer:
Edwin L. Carpenter