Forevermore: Karla Faye Tucker
Theatrical Release:
October 4, 2005
DVD Release:
January 25, 2011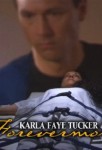 Synopsis
"Karla Faye Tucker: Forevermore" is based on a true story that shook the world of capital punishment. It's an emotional journey that takes a former drug-crazed prostitute and convicted pick-ax killer from the depths of despair to personal triumph on Texas death row. It is a powerful story about love and forgiveness. Karla becomes a media giant, a poster girl for Christian restoration and Texas' worst nightmare as the first woman to be executed in over 100 years. The race is on to save her life. With the help of her new husband, prison Minister Dana Brown, Karla walks-the-talk and faces inevitable challenge of her execution by lethal injection. Many prayers and letters of support from around the world pour in as the clock ticks away to February and her appointment with death. With time running out, Karla reaches out to the world with a message of hope and love. This divine love story proclaims the majestic power of God to change a life.
Dove Review
Based on a true dramatization of the last days of Karla Faye Tucker's life, this film portrays her in her new found faith at the end of her numbered days on this earth as she waits on death row. It amazes me that a person on death row can get married and have so many visitors. I realize that this is a dramatization of Karla's story, but it glamorizes the situation to a point that you feel sorry for her and not the victims of her crime.
This is a compelling story of her faith and her redemption for past sins and the crimes she committed. This DVD shows that with God in a person's life, anyone can change including those in prison. She also inspired others to help those in need so that they would not make her same mistakes. This faith-based film inspires redemption and forgiveness. We award this film the Dove "Family-Approved" 12+ Seal due to content.