Music and Lyrics
Theatrical Release:
February 14, 2007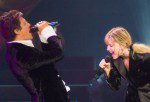 Synopsis
Alex Fletcher (HUGH GRANT) is a washed-up 80s pop star who's been reduced to working the nostalgia circuit at county fairs and amusement parks. The charismatic and talented musician gets a chance at a comeback when reigning diva Cora Corman invites him to write and record a duet with her, but there's a problem – Alex hasn't't written a song in years, he's never written lyrics, and he has to come up with a hit in a matter of days.
Enter Sophie Fisher (DREW BARRYMORE), Alex's beguilingly quirky plant lady, whose flair for words strikes a chord with the struggling songwriter. On the rebound from a bad relationship, Sophie is reluctant to collaborate with anyone, especially commitment-phobe Alex. As their chemistry heats up at the piano and under it, Alex and Sophie will have to face their fears – and the music – if they want to find the love and success they both deserve.
Dove Review
Watching this movie can take you down memory lane regarding the music of the 80's. It is filled with singers wearing tight pants and goofy songs that will make you laugh. Putting it in the "chick-flick" category does not make it a good movie as it has too many sexual innuendos for preteens or teenagers. If adults want a mindless comedy with a few laughs, this film will do it for you but hopefully your aim will be higher.
Due to the sexual content of an unmarried couple sleeping together, this movie cannot receive Dove Approval.
Content Description
Sex:
Couple kiss; an unmarried couple have sex; young singer does a sexual dance; song compared to sex; sexual innuendos; sexual references in songs.
Nudity:
Singer in skimpy outfits; woman in low cut dresses showing cleavage; man in very tight pants and open shirt; couple shown in bed; young woman wrapped in a blanket.