Something to Cheer About
Theatrical Release:
October 5, 2001
DVD Release:
February 13, 2007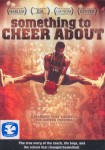 Synopsis
In 1955, Oscar Robertson and his teammates at the segregated Crispus Attucks High School rose from the hatred and racism of the times to be first all-black team ever to win a state championship. With their innovative style of play, this brilliant group of athletes changed basketball forever. "Something to Cheer About" is the amazing true story of the coach, school and team that inspired the nation.
Dove Review
This film focuses on Coach Ray Crowe, who led the Crispus Attucks High School basketball team to the first all-black State Championships in 1955 and 1956. The documentary centers on the obstacles the team faced, inlcuding restrictions at restaurants where they ate, movie theaters, and on the basketball court. NBA great Isiah Thomas appears in the documentary.
Coach Crowe left a lasting effect on his players and the documentary features a lot of perpsective and comments on him as a person as well as a basketball coach. We do approve it for all ages, while noting the very young would probably find it to be a bit slow for their attention level.
Info
Reviewer:
Edwin L. Carpenter