The Number 23
Theatrical Release:
February 23, 2007
DVD Release:
July 24, 2007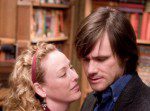 Synopsis
The psychological thriller 'The Number 23' stars Jim Carrey as a man whose life unravels after he comes into contact with an obscure book titled The Number 23. As he reads the book, he becomes increasingly convinced that it is based on his own life. His obsession with the number 23 starts to consume him, and he begins to realize the book forecasts far graver consequences for his life than he could have ever imagined.
Dove Review
This psychological thriller/drama had a twist that I didn't see coming and it was definitely an "aha" moment at the end. I don't frequent these type of pictures so I can't comment on whether anyone else saw the twist coming or not, but it definitely was well hidden as far as keeping me guessing. Both Jim Carrey and Virginia Madsen are excellent in their roles as husband and wife and their love is severely tested when Carrey's character begins reading the book on the number 23. Some interesting tidbits regarding this number are revealed. Sadly, on to the bad news.
There is a lot of violence in the film with lots of blood shown, including the slitting of a woman's throat. The language is strong and there are some strong, brief sexual scenes as well, although I have seen more explicit scenes in other R-rated films. Still, this is not one for the family by any means.
Info
Reviewer:
Edwin L. Carpenter