Peek-A-Parent
DVD Release:
May 24, 2007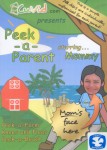 Synopsis
This is a revolutionary children's DVD that brings families closer together by featuring a child's parents and grandparents. Every video is unique, featuring a customized character personalized with the face, hair color and skin tones of a child's mom, dad, or grandparent. Children embark on an interactive learning adventure to a farm, park, and beach.Set to childhood nursery rhymes and fun, upbeat music, children play classic interactive games like peek-a-boo and can dance along to head-shoulders-knees-and-toes, learning new words, objects and numbers along the way. "peek-a-Parent" was designed by a psychology PH.D., and incorporates over 40 key scientific elements to encourage family bonding and maximize a child's social and cognitive development.
Dove Review
Peek-A-Parent is definitely geared to infants and early toddlers. It is divided into three sections which include a farm, the beach and body parts. The main character (Mommy) can be described as a computerized paper doll with the face of a real woman and hinged knees and elbows. She looks a little odd, but the idea is quite clever.
Mommy plays peek-a-boo with your child on the farm and the beach as a cheery narrator introduces basic, new words to your little one. Older toddlers may not be as captivated because of the simplicity of the DVD, but it is full of colors and movement and even a song or two which will certainly grab the attention of curious infants. Dove easily approves "Peek-A-Parent" as family friendly.
Info
Industry Rating:
Not Rated