Aqua Teen Hunger Force Colon Movie
Theatrical Release:
April 13, 2007
DVD Release:
August 14, 2007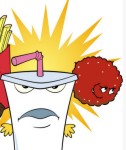 Synopsis
"Aqua Teen Hunger Force Colon Movie Film for Theaters" is an action-adventure epic that reveals the mysterious origins of Meatwad, Frylock and Master Shake. When an immortal piece of exercise equipment threatens the balance of galactic peace, it is up to the Aqua Teen Hunger Force to run away from it. Peril escalates when the Plutonians team up with the Cybernetic Ghost of Christmas Past to strive for ultimate control of the sinister deadly device.
Dove Review
"Aqua Teen Hunger Force Colon Movie Film For Theaters" makes the mistake that many thirty minute shows make-taking what is funny for thirty minutes and dragging it out for a two hour movie. The humor is quite low-brow and if you are unfamiliar with the Cartoon Network Adult Swim show, you may have a hard time following along. However, there were moments when the movie was very funny and these moments didn't always depend on vulgarity, violence, or sex. These moments often reminded me of the same type of obscure humor made famous by the Monty Python sketches.
This film is not Dove approved for several reasons. There is extensive vulgarity and sexual discussion. There is much unnecessary cartoon violence with lots of blood and the showing of extensive body damage.
Info
Company:
First Look Studios
Writer:
Matt Maiellaro and Dave Willis
Director:
Matt Maiellaro and Dave Willis