In the Land of Women
Theatrical Release:
April 20, 2007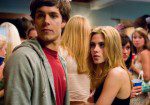 Synopsis
Carter Webb, a screenwriter from Los Angeles, faces an unexpected turn in his life. He's a smart guy, very romantic and funny. In the beginning of the story Carter is dumped by his beautiful, movie-star girlfriend, and it sends him into a tailspin. He decides to go to Michigan for a little while and take care of his sick grandmother and take stock of his life and get his bearings. He meets a mother and her daughters, and his life will never be the same.
Dove Review
Carter Webb has the ability to listen well and to dish out sound advice. This endears him to a mother and daughter he meets when he moves north to Michigan from Los Angeles to live for a time with his grandmother, following a break-up from his girlfriend Sofia (Elena Anaya).
This story includes some real-life situations such as Sarah Hardwicke (Meg Ryan) battling breast cancer, and the awkward desire of her daughter to let a young man know she likes him. However, despite these dramatic moments, the film is also tainted with strong language and a brief encounter between a married woman and a single man, as well as a party made up of under-age teens.
Content Description
Sex:
Implied sex between an unmarried couple; married woman kisses single man; teen girl kisses man over eighteen; a sexual comment about a soft porno film.
Info
Reviewer:
Edwin L. Carpenter