Gina Ds: Crafts and Fun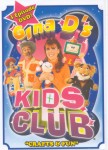 Synopsis
Three episodes: In "Puppet Friends" Simon Wannabe is anxious about performing as a puppeteer, so Gina D helps him by singing an assortment of songs. This DVD includes a special BOBO Blocks feature, "Kiki's New Home."
"Playtime" is a lively episode where Gina D gets everyone at home ready for Kids Club playtime by introducing a variety of action-oriented playtime songs. Features a special BOBO Blocks feature on spelling with BOBO the Dog.
In "Sing-A-Song Day" Simon Wannabe finds a music box that was a special gift from Gina D's grandmother and a reminder of the childhood songs that brought her comfort and joy. This DVD includes a musical BOBO Blocks feature called "Sky Song."
Dove Review
"Gina D's Kids Club Crafts and Fun" is a wonderfully made film. The episodes contain so many wonderful things for children to learn. Your child will learn about different animals like lions, kangaroos and zebras and how to put on a puppet show. Your child will also learn some new craft ideas and here some wonderful stories too.
In every episode of Gina D's Kids Club your child will enjoy many wonderful songs, bright animated stories, puppets, and silly characters which your kids will love. This is a great way to teach your children and keep them entertained. Gina D is a wonderful role model for your children as she is very kind and caring to everyone.
Info
Company:
Raven Moon Entert
Producer:
Joey and Bernadette DiFrancesco
Industry Rating:
Not Rated