First Impressions: Numbers
DVD Release:
October 26, 1996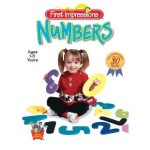 Synopsis
This video introduces young children to the aspects of learning how to count and play with numbers. They are taught how to count from one to twenty, how to use numbers properly, and how proper use will help them in every day life. Basic addition and subtraction skills are demonstrated in a fun manner that is likely to appeal to many kids.
Dove Review
The "Baby's First Impressions: Numbers" DVD is a wonderful way of introducing your child to numbers. The film contains a lot of repetition when it comes to saying and showing the different numbers and repeating what the number is, which is great for your child to learn from. The film contained many bright colors, movement, people, upbeat music, and even adding and subtracting. I would recommend this film for your child as it contains great learning potential.
"Baby's First Impressions" did a great job of keeping the film interesting as well as educational for young viewers. All the content is appropriate and leaves no room for mom to worry about what her child is watching. This film receives our Dove approval for all ages.
Info
Industry Rating:
Not Rated