Every Man Has His Price: The Million Dollar Man
DVD Release:
February 1, 2006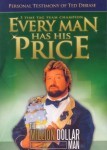 Synopsis
The Personal Testimony of Ted DiBiase. He is known as, "The World Wide Ultimate Villain."
Ted DiBiase's favorite saying was, " Every man has his price." Flaunting in wealth and power, "The Million Dollar Man" turn the wrestling world on its head. Loved by some, hated by many, he carried himself like a self imposed ruler to all those around him. Fame and a lavish road-tour lifestyle entrapped him in the persona of "The Million Dollar Man', an arrogant, self-centered character appearing weekly on televisions across America and around the world.
Even he, the most evil in pro-wrestling, could be bought. Finally one day, the purchase of Ted Dibiase, "The Million Dollar Man" was made. This particular purchase however, had nothing to do with money and it wasn't Ted's financial future that was at stake. It was his soul.
Dove Review
Ted DeBiase was a professional wrestler for almost twenty years when he had an experience with God that changed his life. This DVD is his testimony.
Ted tells how the lusts of the flesh ruined his first marriage, ending it in divorce, and how he fell in love with his God-fearing wife, started going to church and talking the talk but he didn't have a commitment to God. The fame and fortune took over and this marriage was destined to fail. Ted DeBiase says his toughest match was his battle with God and he fought for 38 years. All through this DVD he gives strong encouragements and Bible-based wisdom he learned the hard way. During everything he went through and the things he learned, he poses one main question: Is Jesus Christ Lord of your Life?
This is an awesome video and suitable for all audiences. However, the younger viewers may find it somewhat slow.
Info
Company:
Willowcreek Marketing