Wilderness Family: Part 2
DVD Release:
October 12, 2004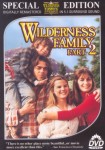 Synopsis
This heart-pounding sequel to "The Adventures of the Wilderness Family" continues the saga of the family who choose to live in their peaceful log cabin home in the Rockies over fast-paced big city life.
They now face terrifying times in fierce storms, an avalanche and being attacked by a ferocious pack of wolves. Watch as America's favorite family stands strong together to prove the best things in life are really free.
Dove Review
This is another great Wilderness Family film. With the setting in the mountains, the surroundings are just beautiful. In this movie, the Robinson family is getting ready for their first hard winter spent in their cabin. It seems like every time they turn around, either a wild animal is trying to get at their food they have saved up, or one or another person in the family is being chased by a wild animal. At one point in the film, Dad has to leave the cabin to go find help for Pat, the mom, who has become sick. This leaves the kids and mom a little vulnerable to the wolves that keep coming around for food. There are a few tense moments in this spot, but Toby, the son, tries to fend off the trouble, when his dad finally comes to the rescue. I would recommend this film to people of all ages.
Info
Company:
Pacific International Ent Inc.