Surfs Up
Theatrical Release:
June 8, 2007
DVD Release:
October 9, 2007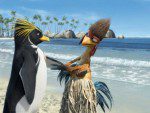 Synopsis
"Surf's Up" is an animated action-comedy that delves behind the scenes of the high-octane world of competitive surfing. The film profiles teenage Rockhopper penguin Cody Maverick (Shia LaBeouf), an up-and-coming surfer, as he enters his first pro competition. Followed by a camera crew to document his experiences, Cody leaves his family and home in Shiverpool, Antarctica to travel to Pen Gu Island for the Big Z Memorial Surf Off. Along the way, Cody meets Sheboygan surfer Chicken Joe (Jon Heder), famous surf promoter Reggie Belafonte (James Woods), surf talent scout Mikey Abromowitz (Mario Cantone), and spirited lifeguard Lani Aliikai (Zooey Deschanel), all of whom recognize Cody's passion for surfing, even if it's a bit misguided at times. Cody believes that winning will bring him the admiration and respect he desires, but when he unexpectedly comes face-to-face with a washed-up old surfer (Jeff Bridges), Cody begins to find his own way, and discovers that a true winner isn't always the one who comes in first.
Dove Review
"Surf's Up" promotes a strong theme of friendship, which adds a nice touch to the film. The animation and antics of the penguins are enough to keep kids happy. One of the main characters, Cody, learns a lot about relationships with others and that life is not all about him. He is very competitive and he learns to enjoy what he does when competing and he learns to be willing to help others. The film falls a bit short on the laughs, but has enough of them along with the great animation so as to be a pleasant viewing experience.
The movie does include some flatulence and burping scenes, and a few crude words like "poop". The strongest word is when a character thinks the word "pepper" was something else, a slang for male genitalia. Overall it is a wholesome film which the kiddies will enjoy and we approve it for all ages.
Info
Company:
Columbia Tri-Star Pictures
Writer:
Lisa Addario and Christian Darren and Don Rhymer and Joe Syracuse
Director:
Ash Brannon and Chris Buck
Reviewer:
Edwin L. Carpenter