Brainy Baby: Spanish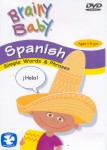 Synopsis
This video will introduce your child to the Spanish language using important first words, colors, numbers and favorite objects; familiar phrases and more!
Brainy Baby(R) has been a leader in the development of preschool videos for more than a decade. Our products are designed to help establish a foundation of educational basics for your child.
This award-winning series was created by educators and parents, so you can trust that our products can have a positive impact on even the youngest minds.
Dove Review
This delightful video will not only entertain your child, it also gives a basic lesson in Spanish. Your child will be entertained with excellent photography, engaging music and stylistic images. The video is filled with color, clever transitions and includes a refreshing mix of ethnic representation. At one point a doll plays peek-a-boo by popping on and off the screen. At the same time, the word for doll, "muneca" is spoken and shown in bright letters. As a teaching aid for parents, the English word is also shown in small letters at the bottom of the screen, allowing any parent to follow along and reinforce the lessons being taught.
Don't forget to watch the bonus features which include games, bloopers and a behind the scenes look at how the video was made. This video is a great parenting tool and kids won't even know their learning!