Oceans Thirteen
Theatrical Release:
June 8, 2007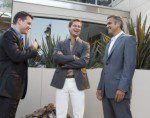 Synopsis
What are the odds of getting even?
Danny Ocean (George Clooney) and the gang would have only one reason to pull off their most ambitious and riskiest casino heist — to defend one of their own. But they're going to need more than luck on their side to break The Bank.
Ruthless casino owner Willy Bank (Al Pacino) never imagined that the odds were against him when he double-crossed Danny Ocean's friend and mentor Reuben Tishkoff (Elliott Gould), putting the distraught Reuben in a hospital bed in critical condition.
But Bank miscalculated…badly. He may have taken down one of the original Ocean's eleven, but he left the others standing and, worse for him, gave them a shared purpose: to take Bank down on the night of what should be his greatest triumph – the grand opening of his new casino, appropriately named The Bank.
Dove Review
I didn't know what to expect as I entered the theater, ironically theater number 13, to see "Oceans Thirteen." I must admit to not having seen the previous installments of this series. But I do recognize a family picture when I see it, and this isn't it. There was a "GD" uttered not long into the picture, and we don't approve films which take God's name in vain. There are two utterances of this word and there was also another case of Biblical profanity and other strong language. Not to mention a sex scene which, although not long, was beyond the limits of family viewing.
There were a few laughs in the film, but I honestly found it to be slow moving. There were a lot of casino and gambling scenes, and a lot of mundane plot scenarios which didn't help. Don't gamble on "Ocean's Thirteen." Go see "Gracie" or "Shrek the Third" or one of our other Dove approved family films.
Info
Writer:
Brian Koppelman and David Levien and George Clayton Johnson and Jack Golden Russell
Reviewer:
Edwin L. Carpenter