Nancy Drew
Theatrical Release:
June 15, 2007
DVD Release:
March 11, 2008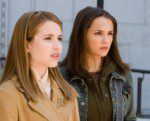 Synopsis
Based on characters created by Carolyn Keene, "Nancy Drew" follows Nancy (Emma Roberts) as she accompanies her father, Carson Drew (Tate Donovan), to Los Angeles on one of his business trips and stumbles across evidence about a long-unsolved crime involving the mysterious death of a beautiful movie star. Nancy's resourcefulness and personal responsibility are put to the test when she finds herself in the middle of the fast-living, self-indulgent world of Hollywood.
Dove Review
Growing up with Nancy Drew made this movie a hit with me. Girls from 12 to 80 will enjoy this mystery if they are familiar with the series of books. Even though I have not read them in a long time, this film and the characters portrayed, definitely merge within the story lines of the past.
This movie is geared toward the tween aged girls. "Nancy Drew" has reached out to a whole new generation of girls, and this film will not leave them disappointed.
Info
Writer:
Andrew Fleming and Tiffany Paulsen