Transformers (2007)
Theatrical Release:
July 3, 2007
DVD Release:
October 16, 2007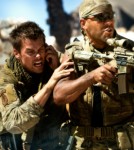 Synopsis
The interstellar battle between the Autobots and Deceptions rains destruction down on planet Earth as director Michael Bay adapts Hasbro and Takara's popular Transformers franchise into a big-budget, live-action summer tent-pole extravaganza in this ambitious sci-fi action feature starring Shia LaBeouf, Tyrese Gibson, Bernie Mac, John Turturro, John Voight, and, of course, Optimus Prime and Megatron. Enormous aliens have chosen the third rock from the sun as their ultimate battleground, and as the villainous Deceptions struggle to obtain the key to unlimited power, a young Earthling named Sam Witwicky (LaBeouf) may stand as mankind's last hope for survival.
Dove Review
This movie joins the rank of films which barely miss out on being approved by Dove. It is rated a three in the language category of our content scale, and a three means it can't be approved. It would have been had it been a two rating but, unfortunately, it wasn't. There is simply a lot of language in the film. The movie includes a nice performance by Shia LaBeouf, as well as Megan Fox, his love interest in the film.
The movie will appeal to teens and young adults particularly, which is why Dove has to consider these young people carefully, and we believe the movie contains excessive language. It is a shame the filmmakers didn't edit the language more cautiously. Now we have another another "almost" approved film.
Content Description
Language:
G/OMG-20; D-3; B-3; A-3; P-4; H-6; S-5; Mother... (Not finished)-1; Cr*p-2; Frickin-1; Sc*ew-1; The word "masturbating" is used as a woman questions her son, who was not doing this.
Violence:
Explosions; robots battle each other and people; very little blood although there is a lot of fighting which includes the military; a student is hit by a rubber band.
Info
Writer:
Roberto Orci and Alex Kurtzman and John Rogers
Reviewer:
Edwin L. Carpenter