The Last Cowboy
Theatrical Release:
January 17, 2003
DVD Release:
January 17, 2003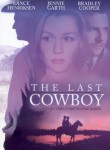 Synopsis
Will Cooper is a modern-day rancher who, along with his friend and foreman Amos Russell, is struggling to maintain hi rach in hard times. When Will's estrange daughter Jake returns to the ranch for her grandfather's funeral, father and daughter dlash, opening old wounds surrounding circumstances that led to the death of Jake's mother. Crisis comes in the form of insurmountable debt, and it is only by working together that Will and Jake han any chance of saving their family home. This is a story that reasserts belief in family, tradition and healing.
Dove Review
"The Last Cowboy" has a little bit of a hokey factor to it, but overall is a pretty good movie. It gives a wonderful feel of what a rancher's heart must be like, displaying this cowboy's deep devotion to his land and animals and then ultimately to his family. Anyone interested in cattle, horses, ranching and small-town life will be drawn into this film.
There is a bit of language to be aware of (as noted in the language section), but nothing vile and no cursing. Other than the language the movie is pretty clean and leaves a good taste in your mouth for the majestic beauty of the great outdoors. "The Last Cowboy" earns Dove's stamp of approval for this great modern Western. Yee Haw!
Info
Company:
Hallmark Home Entertainment