I Know Who Killed Me
Theatrical Release:
July 27, 2007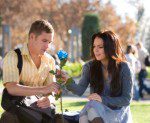 Synopsis
An idyllic small town is rocked when Aubrey Fleming (Lindsay Lohan), a bright and promising young college student is abducted and tortured by a sadistic serial killer. When she manages to escape, the traumatized young woman who regains consciousness in the hospital insists that she is not who they think she is-and that the real Aubrey is still in mortal danger.
A taut and stylish psychological thriller with a captivating riddle at its center, I KNOW WHO KILLED ME explores the dark side of identity, family and obsession.
Dove Review
The plot behind this Lindsay Lohan-driven film is simple: a young woman recovering from mysterious cuts is not who you think she is. She alone holds the key to discovering her look-alike persona, a missing college student. The film did a nice job of leaving enough clues to help the viewer follow along without spoiling the ending. Some viewers who love the thriller genre may have difficulty with this film though due to graphic torture scenes.
There were several reasons why the Dove Family-Approved Seal was not given to this picture. The main character of this film, Dakota, works in a strip joint, smokes, drinks, and uses the F word. In addition, many of the torture scenes were quite graphic and bloody and many topless women were scene throughout the film. We cannot award our Dove Family-Approved Seal to the picture "I Know Who Killed Me" because of the aforementioned language, sex, nudity, and violence.
Info
Company:
TriStar Pictures