No Reservations
Theatrical Release:
July 27, 2007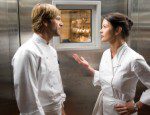 Synopsis
Master chef Kate Armstrong (Academy Award winner Catherine Zeta-Jones) lives her life like she runs her kitchen at a trendy Manhattan eatery with a no-nonsense intensity that both captivates and intimidates everyone around her. Kate's perfectionist nature is put to the test when she "inherits" her nine-year-old niece Zoe (Abigail Breslin), while contending with a brash new sous-chef who joins her staff. High-spirited and freewheeling, Nick Palmer (Aaron Eckhart) couldn't be more different from Kate, yet the chemistry between them is undeniable. Rivalry becomes romance, but Kate will have to learn to express herself beyond the realm of her kitchen if she wants to connect with Zoe and find true happiness with Nick.
Dove Review
There have been several movies in the past that had the same basic theme in which the unmarried relative becomes a guardian for a child or children, and they don't have a clue as to how to raise the child. This shows that if anyone is put in that situation he/she might make mistakes and it may not always be easy. This movie is not any different. It is a "chick flick" that will entertain the viewer with laughs and sadness.
This film has some good things going for it, but unfortunately we cannot award the The Dove Seal because of some offensive language that really has no bearing on the story and, although it is not on-screen, it is assumed that an unmarried couple spends the night together.
Content Description
Sex:
Couple kiss; talk regarding music and one night stands; off-screen assumed sexual relations between unmarried couple.
Info
Writer:
Carol Fuchs and Sandra Nettelbeck