Stardust
Theatrical Release:
August 10, 2007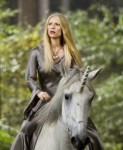 Synopsis
STARDUST is an enchanting tale of a fallen star who crashes into a magical kingdom–and turns out to be no ordinary meteorite at all, but a beautiful imperiled woman chased after by an incredible array of seekers who want or need her secret powers. From wicked witches to power-mad princes, from flying pirates to dueling goblins, each person who encounters the star has his or her own agenda, but they all desire just one thing: her heart.
The result is a rip-roaring tale of true love and high adventure that mixes and matches all the grand themes and imagination-sparking elements that have ever caused anyone of any age to fall in love with fairy tales.
Dove Review
Filled with all the magic and mystery of an adventurous fairy tale, "Stardust" will entertain the viewer. Although the movie is a bit long at two hours and slow at times, it is a very interesting story. There are the good guys against the bad guys, sword fights, a little romance, and throw in some funny characters, and a unicorn for the girl making the fantasy complete for this tale.
This movie does give some good advice on love and relationships, but it goes outside our boundaries in the first few minutes when, even though not on screen, it is assumed an unmarried couple have sex, resulting in the birth of a baby. This situation prevents us from awarding The Dove Family-Approved Seal to "Stardust."
Info
Writer:
Neil Gaiman and Jane Goldman and Matthew Vaughn