El Cantante
Theatrical Release:
August 3, 2007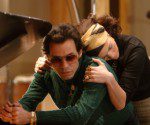 Synopsis
It has been said that Hector Lavoe was to salsa what Frank Sinatra was to pop music. Pioneering a sound that blended Puerto Rican and American influences, Lavoe's humble beginnings as a teen aged singer in Puerto Rico to his days as a Latin idol living in New York City are chronicled in this soulful film combining vibrant, sizzling musical numbers with heart-wrenching drama. Chart-topping pop star Marc Anthony gives a dazzling performance as Lavoe, pulled by stardom to the United States in the early 1960s, quickly capturing the praise and attention of local musicians and New York audiences.
When Lavoe meets Puchi (Jennifer Lopez) – a tough-talking beauty who becomes both Hector's muse and his true love – she gives him the confidence to dive head first into the music business. Recording albums, selling-out shows and producing hit after hit, Lavoe gets bitten hard by the fame bug, succumbing to a serious drug and alcohol addiction brought on by the endless tragedy that has shrouded his life for years – an addiction dead set on destroying everything he has worked so hard to achieve.
Dove Review
The title "El Cantante" means "The Singer," and is the biography of the life of Hector Lavoe, formerly Hector Perez, a teenager who goes from singing in his native Puerto Rico, to becoming an idol of many in New York in the 1970s. Marc Anthony gives an energized and multi-faceted performance as Lavoe. We see his pain and grief as well as his elation in achieving success. Anthony plays the part well, as he plays Lavoe as a character who refuses to talk about his disappointments and hurts, but instead turns to alcohol and drug use.
The sad news is that the film is filled with non-stop strong language and drug use and sexual innuendos. It's as if the screenwriters had a hard time coming up with dialog other than the F word. This story is based on an interview with Lavoe's wife, Puchi (Jennifer Lopez). We cannot award our Dove Family-Approved Seal to this film.
Info
Company:
Picturehouse Entertainment
Writer:
Leon Ichaso and David Darmstaeder and Todd Bello
Reviewer:
Edwin L. Carpenter