Underdog
Theatrical Release:
August 3, 2007
DVD Release:
December 18, 2007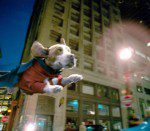 Synopsis
"There's no need to fear. Underdog is here!" The superhero canine with a gift for rhyme returns in an all new live-action re-imagination of the classic cartoon, "Underdog."
After an accident in the mysterious lab of maniacal scientist Dr. Simon Barsinister (Peter Dinklage), an ordinary beagle unexpectedly finds himself with unimaginable powers and the ability to speak. Armed with a fetching superhero costume, Underdog (voiced by comedian Jason Lee) vows to protect the beleaguered citizens of Capitol City and, in particular, one beautiful spaniel named Polly Purebread (voiced by Academy Award® nominee Amy Adams). When a sinister plot by Barsinister and his overgrown henchman Cad (Patrick Warburton) threatens to destroy Capitol City, only Underdog can save the day.
Dove Review
"Underdog" is a warm fuzzy movie sure to please the entire family. Moms and dads will fondly remember these lovable characters from their youth as they learn how Underdog obtained his powers and why he speaks in silly rhymes. The writers did an impressive job of weaving all of the original catch phrases, names and characters into this wonderful new rendition. Kids will fall in love for the first time with Shoeshine Boy and Polly as they are whisked along on this thrilling adventure.
While there is a great deal of action, the sequences are mostly slapstick in nature so even your younger children should have little to fear. "Underdog" is creative, imaginative and just plain fun! We are pleased to award "Underdog" our Dove "Family-Approved" Seal for all ages.
Info
Writer:
Adam Rifkin and Joe Piscatella and Craig A. Williams