Little Hercules: Hollywood Workout for Kids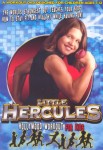 Synopsis
Richard Sandrak, 12-year-old international fitness celebrity, guides kids through a series of low impact excerises. Richard has inspired children and adults worldwide with his dedication to fitness. He has been featured in fitness competitions, television interviews, magazines and in a popular documentry about his life, which is garnering huge television rationgs worldwide.
"The Little Hercules Hollywood Workout" is the must have healthy product. Why? Because according to the leading health experts, obesity and inactivity in America's children is a frighting levels. Richards' proven ability to inspire children and adults to get fit is the cure!
Dove Review
This workout, led by Little Hercules, is a pretty good beginner's video for kids. With his way-above-par physique, this young teenager does a pretty good job of leading his workout. Although there are a couple small cardio segments, the focus is definitely on sculpting the body. A little more emphasis on kids mixing activity with weight training would have been great.
The exercises are easy to follow, but there was little instruction on correct form, which could potentially lead to injury as viewers get stronger and begin to use heavier weights (squat exercises specifically). The video did get a little monotonous toward the end, but overall it was an OK show. We happily award it the Dove Family-Approved Seal.
Info
Company:
Woodhaven Entertainment
Industry Rating:
Not Rated