Illegal Tender
Theatrical Release:
August 24, 2007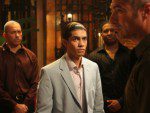 Synopsis
After the gangsters who killed his father come to settle a score, a teenage boy and his mother turn the tables on the killers. Producer John Singleton ("Four Brothers," "Hustle and Flow") and writer/director Franc. Reyes ("Empire") join forces to tell the story of one Latino family's quest for honor and revenge as the hunted become the hunters in the new thriller "Illegal Tender."
Wilson De Leon, Jr. (Rick Gonzalez) is an exceptional college student with an adoring girlfriend, doting mother and a future full of promise. He has never wanted for anything, and he has never been forced to stand his ground. But when ghosts from his mother's past come back to haunt his present, he must defend his family…and quickly turn into the strong man his father prayed he'd become.
Nothing could stop Wilson's mother, Millie (Wanda De Jesus), from protecting her two boys. Forced to flee her home after gangsters killed her husband, she made an oath to give her children only the best. But all that changes when an enemy from the past catches up with them. It's finally time to take action–and now, they're done running.
Dove Review
Wilson is the son of a small-time drug dealer killed at his birth. As he becomes a man, he is forced to confront his family's dangerous past and decide if he wishes to keep on running or fight to end this war for his family forever. While the story seemed original, it appeared as though it was borrowing heavily from films like the "Kill Bill" series and "Jackie Brown." However, Wilson's little brother is absolutely adorable and lights up the screen whenever he is on.
We were unable to award the Dove Family-Approved Seal to this film due to excessive sex, nudity, language and violence in the film. Most of the violence involved guns but was not too bloody. However, scenes where someone was beaten showed much more gore.
Info
Company:
Universal Pictures