The Game Plan
Theatrical Release:
September 28, 2007
DVD Release:
January 22, 2008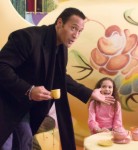 Synopsis
"The Game Plan" tells the story of rugged superstar quarterback Joe Kingman (Dwayne "The Rock" Johnson), whose Boston-based team is chasing a championship. A 'serial bachelor', Kingman is living the ultimate fantasy: he's rich, famous and the life of the party. But this dream is suddenly sacked for a loss when he discovers the 7-year-old daughter (newcomer Madison Pettis) he never knew he had – the product of a last fling before parting years ago with his young wife. Now, during the most important time in his career, he must figure out how to juggle his parties, practices and dates with the newfound ballet classes, bedtime stories and dolls that come with his daughter. Equally perplexed is his hard-edged mega-agent, Stella (Kyra Sedgwick), herself without a parental bone in her body. Despite the often hilarious misadventures that come with being a new father, Joe discovers that's there's more to life than money, endorsements and thousands of adoring fans; the love and care of one very special small fan is the only thing that matters.
Dove Review
This is a positively funny film! There is a comment in the story about how special and needed dads are, and this film sure delivers that message in the right way. The story is well crafted and genuinely funny. Madison Pettis, the young nine-year-old actress who plays Peyton James, is terrific in her role as Joe Kingman's daughter. Joe doesn't do well with bedtime stories in the beginning. In fact, his version of the Big Bad Wolf is quite truncated and funny. He is self-centered at the start of the story, but his daughter begins to win his heart, piece by piece. The humorous journey includes Joe doing a commercial after having eaten a cookie baked with cinnamon, an ingredient he is allergic to. His difficulty in speaking the words is hilarious.
This is a Disney film made in their trademark style; one the entire family can enjoy from ages five to seventy five! In fact, a lady in the audience in her seventies laughed so hard at some of the physical comedy it added to my enjoyment of the film. Some of the physical comedy in the picture includes a bubble bath gone awry. There are some minor content comments listed below, but we award this entertaining family film five doves. Be careful when you see it because the little girl just might steal your heart.
Content Description
Nudity:
Cleavage; a woman wears a leotard and she must be cold as it is a bit revealing near her chest; men's bare chests and backs; man dressed in towel as he just got out of shower.
Info
Company:
Buena Vista Home Video
Writer:
Nichole Millard and Kathryn Price and Audrey Wells
Reviewer:
Edwin L. Carpenter