The Sonny and Cher Christmas Collection
DVD Release:
October 26, 2004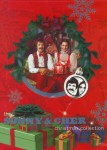 Synopsis
Have a cool yule with Donny and Cher. Relive the holiday magic of these rare Sonny and Cher Christmas shows. For the first time ever, classic TV and pop music fans alike can step into the Christmas with Sonny and Cher… and Chastity, too! This is a groovy collection features highlight from their three – and only Christmas variety shows. Two from the Sonny and Cher Comedy Hour which originally aired in 1972 and 1973 and the third from the Sonny and Cher Show in 1976, when the famous – and then divorced couple came back to network television for one more season. Having never released a Christmas record, this collection includes the only holiday performances to be found by Sonny and Cher, either individually or collectively. So sit back , relax and get ready for a blast from Christmas past. Three decades later…and the Beat Goes On!
Dove Review
We are pleased to be able to award the Dove Family-Approved Seal to the DVD, "Sonny and Cher: The Christmas Episodes." This covers the three Christmas episodes from each of the three seasons that Sonny and Cher were on television together. Most of the scenes were very funny and some were very poignant and touching. However, the last episode which took place after Sonny and Cher had divorced was much like spending Christmas with a divorced couple- a few sweet moments but mostly awkward. Overall, these are great Christmas laughs for the entire family.
There were a few instances of Sonny and Cher kissing (when they were married) as well as a scene where Sonny and Cher play an unmarried couple making out. There was social drinking throughout with wine but there was one scene where most were consuming hard liquor. There is also an instance with a drunk man and some smoking. The last objectionable scene is when a woman is reading an issue of "Playboy" with a scantily-clad woman on the front but it was from a distance. Due to these scenes, we award our Dove Seal to this DVD for ages twelve and above.
Content Description
Drugs:
Drunk man; multiple instances of wine drinking; instance of drinking hard liquor; two instances of smoking.
Info
Company:
R2 Entertainment