The Heartbreak Kid
Theatrical Release:
October 5, 2007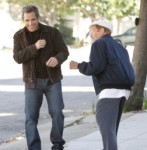 Synopsis
Single and indecisive, Eddie (Ben Stiller) begins dating the incredibly sexy and seemingly fabulous Lila. Upon the urging of his father and best friend, Eddie proposes to her after only a week, fearing this may be his last chance at love, marriage, and happiness. However, while on their honeymoon in sunny Mexico, Lila reveals her true beyond-awful nature and Eddie meets Miranda, the woman he realizes to be his actual soul mate. Eddie must keep his new, increasingly horrid wife at bay as he attempts to woo the girl of his dreams.
Dove Review
This film is the story of one man who, tired being of being the only single man he knows besides his father, rushes into a whirlwind marriage with a woman. However, no sooner do they say "I do" when he begins to wish he had said "I don't." The complicated situation becomes even more so when he meets the woman of his dreams while on his honeymoon. This comedy has moments where it is funny and even touching, but these moments are buried within raunchy joke after raunchy joke.
This film was not Dove Family-Approved. There were two scenes that showed the newly-married couple having sex as well as frank discussions regarding sex throughout the film. There is also drug use and drinking throughout the film. The violence is mild compared to other categories and falls in the realm of physical comedy. This film is by no means for the family and even the most seasoned adult movie-goer should beware of the content listed below.
Info
Writer:
Scot Armstrong and Leslie Dixon
Director:
Bobby Farrelly and Peter Farrelly