The Darjeeling Limited
Theatrical Release:
October 26, 2007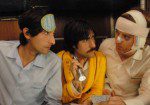 Synopsis
In director Wes Anderson's THE DARJEELING LIMITED, three American brothers who have not spoken to each other in a year set off on a train voyage across India with a plan to find themselves and bond with each other — to become brothers again like they used to be.
Their "spiritual quest", however, veers rapidly off-course (due to events involving over-the-counter pain killers, Indian cough syrup, and pepper spray), and they eventually find themselves stranded alone in the middle of the desert with eleven suitcases, a printer, and a laminating machine. At this moment, a new, unplanned journey suddenly begins. Owen Wilson, Adrien Brody, and Jason Schwartzman star in this film about their adventure and their friendship.
Dove Review
This film by Wes Anderson has a lot of the same supporting cast as was featured in his film, "The Royal Tenebaums." The starring cast consisting of Owen Wilson, Adrian Brody, and Jason Schwartzman are suited well to his unique filming style. However, this film lacks a feeling of motion throughout the film and you begin to wonder if the brothers' journey will ever to come to an end. Two flashback scenes in the film are awkwardly placed which can leave viewers confused. Diehard fans of Wes Anderson will not be disappointed but anyone else may have a hard time enjoying this film as much. We were unable to award the Dove Family-Approved Seal because of language, sex, nudity, and drug use. Some nudity is shown as a couple kisses and then an unmarried couple has sex. There is almost constant drinking, smoking, and prescription drug abuse during this film. The language in this film is very coarse at times.
Info
Company:
Fox Searchlight Pictures
Writer:
Wes Anderson and Roman Coppola and Jason Schwartzman