Green Baby: Return to Nature
DVD Release:
October 1, 2007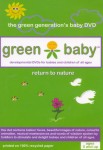 Synopsis
Green Baby is an inspirational DVD created for parents to enjoy bonding with their children while encouraging an appreciation for Mother Earth. It's simply about raising awareness, which starts in the home with friends and family. This DVD features babies playing in nature while interacting with fun and colorful animation. The soundtrack is composed of peaceful world music from different cultures with toddler's voices delivering positive and uplifting messages about peace, love, joy and harmony.
Dove Review
The Green Baby is similar to the Baby Einstein DVDs in that it plays soft music while there are pictures on the screen. It is geared toward younger children. Throughout the film you will hear the voices of young children saying phrases such as, "Live in the Moment," "free to create," "respect nature," "be happy," and "plant more trees". The phrases are all happy encouraging ones; however, some I could not make out as they were spoken by little kids and I could not understand what they were saying. There is movement and color in the video too. The film is awarded our Dove Seal.