Michael Clayton
Theatrical Release:
October 12, 2007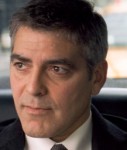 Synopsis
Michael Clayton (George Clooney) is an in-house "fixer" at one of the largest corporate law firms in New York. A former criminal prosecutor, Clayton takes care of Kenner, Bach and Ledeen's dirtiest work at the behest of the firm's co-founder Marty Bach (Sydney Pollack). Though burned out and hardly content with his job as a fixer, his divorce, a failed business venture and mounting debt have left Clayton inextricably tied to the firm. At U/North, meanwhile, the career of litigator Karen Crowder (Tilda Swinton) rests on the multi-million dollar settlement of a class action suit that Clayton's firm is leading to a seemingly successful conclusion. But when Kenner Bach's brilliant and guilt-ridden attorney Arthur Edens (Tom Wilkinson) sabotages the U/North case, Clayton faces the biggest challenge of his career and his life.
Dove Review
This film is a high quality and well-written tale that takes place inside a most seedy environment. As the story unfolds, the audience is privy to many moral and ethical decisions both good and bad. While the story was quite interesting, there was an excessive amount of crude language. Once again, Hollywood will have us believe that individuals at the highest corporate and legal levels have potty-mouths. Due to the profanity and one sexual discussion, Dove cannot issue its Family-Approved Seal to this film.
Content Description
Language:
F-19; GD-10; J-3; A-4; S-9; BS-2; SOB-1; S-9; H-7; G/OMG-3; For Ch**st Sake-4; P-4; Slang for female genitalia-1; Slang for male genitalia-3
Drugs:
Smoking by extra characters; drinking in bar; drinking wine and alcohol; prescription medication; drug used to kill man.
Nudity:
Man strips to waist in a legal setting; woman seen in her bra and underclothes while putting on makeup.