Sarah Landon and the Paranormal Hour
Theatrical Release:
October 19, 2007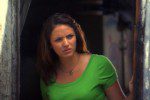 Synopsis
Far away from home, in the small town of Pine Valley, Sarah Landon (newcomer Rissa Walters) finds herself all alone, staying in the guesthouse of her late friend's grandmother. When she promised to come visit, she didn't realize she wouldn't be staying in the main house, and she didn't realize that the guesthouse was haunted. Or at least it seems that way with all the strange things that are going on in there. But that soon becomes the least of the 17-year-old's worries. When she learns of the town's dark secret, she finds herself in the middle of a haunting mystery that involves two brothers, the local psychic, and an evil spirit.
Dove Review
Compared to the many horror flicks that seem to be overtaking the theaters lately, this film seems pretty mild. But while there is no blood shed and no sexual situations, the message being sent is almost as harmful. The character of Sarah Landon is supposed to be a "Nancy Drew-type" character who is naturally inquisative and to whom unusual things happen requiring investigation. In this episode (yes, a series of films is planned) she helps two brothers figure out the meaning of a mystery and situation that has haunted them for years. There is much discussion of the paranormal. At one point Sarah asks, "What is the difference between a ghost and a spirit?" One of the brothers has been obsessed with this subject for years and is happy to answer, "A ghost is a spirit that hasn't crossed over to the afterlife." He goes on to explain that this type of spirit is seeking revenge and can even inhabit a human body to kill another person.
I can understand the thrill of a good ghost story and I don't think a story containing ghosts in itself is inappropriate. It is the evil nature of the spirit in this film and the fact that the characters seek out information from psychics, horoscopes, and books containing ritualistic behavior and then act on it. Due to inapporpriate behavior and depictions of paranormal activity, we cannot issue the Dove Family-Approved Seal to this film.
Info
Company:
Freestyle Releasing
Writer:
John Comrie and Lisa Comrie