American Gangster
Theatrical Release:
November 2, 2007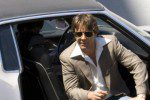 Synopsis
Nobody used to notice Frank Lucas (Oscar® winner Denzel Washington), the quiet driver to one of the inner city's leading black crime bosses. But when his boss suddenly dies, Frank exploits the opening in the power structure to build his own empire and create his own version of the American Dream. Through ingenuity and a strict business ethic, he comes to rule the inner-city drug trade, flooding the streets with a purer product at a better price. Lucas outplays all of the leading crime syndicates and becomes not only one of the city's mainline corrupters, but part of its circle of legit civic superstars.
Richie Roberts (Oscar® winner Russell Crowe) is an outcast cop close enough to the streets to feel a shift of control in the drug underworld. Roberts believes someone is climbing the rungs above the known Mafia families and starts to suspect that a black power player has come from nowhere to dominate the scene. Both Lucas and Roberts share a rigorous ethical code that sets them apart from their own colleagues, making them lone figures on opposite sides of the law. The destinies of these two men will become intertwined as they approach a confrontation where only one of them can come out on top.
Dove Review
OK. I knew the movie wasn't titled "Pollyanna", but still, "American Gangster" has so much strong language, violence and blood, nudity and sex outside of marriage, that it is just way over the top. The film is saturated with drug use, revenge and unrestrained pleasure. The scenes which bring the film to its conclusion are some of the best as they include the only scenes of Denzel Washington and Russell Crowe acting together, and there is no question that these are talented actors who chewed up the scenery in the ending of this movie.
Still, seeing the bloody arms of drug users, and people shot in the face, as well as hearing the racial slurs, left me leaving the theater disappointed at just how far some films these days are daring to go. The screenwriters must be at a loss at coming up with dialog so they just stick the F word in the scenes about every five to ten seconds. How sad. And what a lack of imagination. If there is any redeeming message in this film, I suppose it is that crime doesn't pay. This film cannot be awarded our Dove Seal as a family-friendly film.
Info
Company:
Universal Pictures
Writer:
Steven Zaillian and Mark Jacobson
Reviewer:
Edwin L. Carpenter