Charlie and Me
Network Premier:
January 5, 2008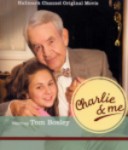 Synopsis
In the Hallmark Channel Original Movie "Charlie and Me," Emmy Award nominee Tom Bosley stars as a senior whose love of jazz, sense of humor and zest for life has rubbed off on Casey, his precocious 12-year-old granddaughter. When Charlie suffers a heart attack, he realizes that he has a few last items to check off his list, including imparting some final words of wisdom to Casey, and helping his workaholic, widowed son reach his potential as a person and father. Not an easy job, but Charlie's more than up to the task. Premieres Saturday, January 5 at 9:00 EST.
Dove Review
Hallmark presents a heartwarming story of family and change. Dealing with the loss of a loved one can be difficult for anyone, especially when they are very close. The bond between Charlie and Casey is one that will last forever but Casey needs Charlie's help to make it through. Charlie has lived next to his son and granddaughter for many years, and Casey and Gramps are are very close. But as a result of a heart attack, Charlie realizes that some changes have to be made before his trip "home".
This movie will have you laughing and crying. Due to the theme dealing with the death of a loved one, we recommend this movie for twelve plus. We gladly award our Dove Seal to this picture.
Info
Company:
Hallmark Channel
Industry Rating:
Not Rated