The Golden Compass
Theatrical Release:
December 7, 2007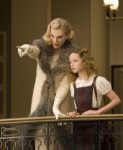 Synopsis
The first movie based on the bestselling Philip Pullman novels. The "His Dark Materials" trilogy is comprised of "The Golden Compass," "The Subtle Knife" and "The Amber Spyglass". It revolves around a young girl who travels to the far north to save her best friend. Along the way she encounters shape-shifting creatures, witches, and a variety of otherworldly characters in parallel universes.
Dove Review
Dove recently viewed "The Golden Compass", which incorporates some nice cinematography including scenes of snow-capped mountains. The child actors are also quite adept in their various roles in the picture. The movie itself, however, tends to be slow moving and lackluster when it does not center on the action sequences.
This is a violent picture, with many overtly graphic scenes. There is the shooting of arrows by witches, sword fights, a fight between two bears with one ripping the jaw of the other. There are gun shots and animal fights and several characters are killed.
There are constant references to witches, and witches' prophecy, and daemons. Hell is mentioned as a literal place in the film, as well as the reference to the Gyptians' "gracious God." There is no attempt to disguise the characters of daemons or witches and bad spirits as anything other than by what they are. We, therefore, take these references literally.
Due to the ratings levels of the "Violence" and "Other" categories, Dove cannot award our Dove "Family-Approved" Seal to this film.
Info
Writer:
Philip Pullman and Chris Weitz
Reviewer:
Edwin L. Carpenter