The Great Debaters
Theatrical Release:
December 25, 2007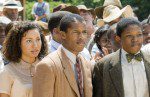 Synopsis
Washington stars and also directs the the true story of Melvin B. Tolson, a professor at Wiley College Texas. In 1935, he inspired students to form the school's first debate team, which went on to challenge Harvard in the national championship.
Set against the backdrop of the Jim Crow South and inspired by a true story, "The Great Debaters" chronicles the journey of a brilliant but volatile coach (Denzel Washington) who uses the power of words to shape a group of underdog students from a small, modest black college in East Texas into an elite debate team while challenging the social mores of the time, culminating with a groundbreaking invitation to debate Harvard's championship team.
Dove Review
"Do what you have to do, so you can do what you want to do." So says a college professor in speaking to his son. He then sends him off to do his homework. The young man eventually does realize a dream by speaking on his school's debate team. This film is an emotionally moving and well-made production with top notch acting all the way around. The movie is based on the true story of the Wiley debating team, based in Marshall, Texas, which began winning competition after competition in 1935. This all-black team eventually meets the Harvard debating team face to face in an historically remembered competition.
Although the importance of education in this film is to be applauded, as well as its spiritual scenes, there is a very graphic scene of a hanging man, in addition to some strong language, which stops the film short of being a family-friendly picture.
Info
Company:
The Weinstein Company LLC
Reviewer:
Edwin L. Carpenter